"DESIGN & FUNCTION MADE OUT OF PASSION…. ….. UNIQUELY MAKE TO YOUR PERSONAL FIT"
The series "Sari" come from play on Thai word of "Sà-Ree-Rá" means Ergonomic. ZEDERE® Sari is a range of design with traditional Scandinavian aesthetics given a modern, stylized form and function with our special twist. To us, a chair should be more than just beautiful shape so we add function and movement into the series. Although every model is unique by its appearances and its ergonomic design, yet, they have two things in common which are SUPERIOR COMFORT and TIMELESS BEAUTY.
What makes a Zedere Leather Recliner so good ?
Zedere roots date back to 1956 when the grandfather started a leather tannery, which is still owned and operated today by the same family. All the leather is still produced in the tannery, so you can be sure that only the highest quality leather is used on the recliners.
All materials used in the recliners are of the highest quality available. All moving parts are sourced worldwide from manufacturers who provide the best engineering techniques available.
Zedere leather recliners offer great value.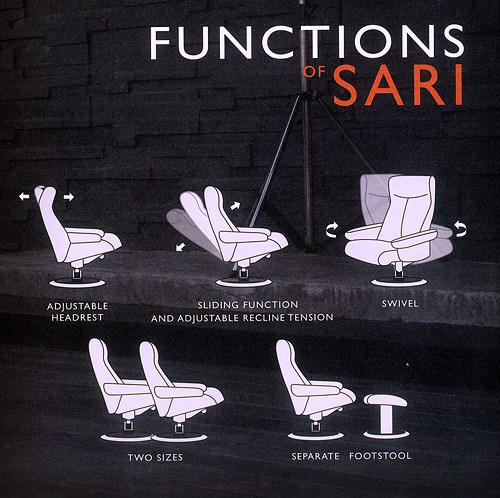 BACK CUSHION - Ergonomic upper body support cushion and lumbar support on your lower back area, polyester wadding and high elasticity urethane foam.
UPPER STRUCTURE - ZEDERE® tubular steel frame with Epoxy powder coating .
SEAT CUSHION – High density urethane foam to ensure good seating posture .
HEADREST - ZEDERE® headrest for greatest comfort . Headrests can either be adjusted forward or backward using either a resistance hinge mechanism or a ratchet hinge. Find the best position for your comfort.
LOWER STRUCTURE - tubular steel frame with Epoxy powder coating and steel wave spring .
MECHANIC – An option with our traditional effortless and smooth gliding or motor controller.
ARMREST STRUCTURE – layer glued plywood veneer bent wood (15mm thick).
ARMREST CUSHION - High density foam and polyester fiber.
FOOTSTOOL STRUCTURE - 15mm think wood with high density foam and polyester fiber.