Cedar barrel hot tubs
On display in our showroom.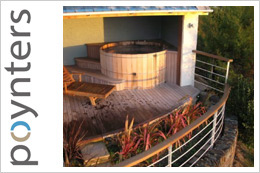 Download our Cedar Barrel Hot Tubs catalogue

Made using old fashioned cooperage techniques from days gone by.
Just the natural look of cedar staves and marine grade stainless steel, fashioned into a wooden barrel using the time honoured ancient art of cooperage.
Our hot tubs are made for admiration…. Of the exquisite beauty of our heart wood cedar (each 1 3/4 inch thick stave is milled to precision with an interlocking tongue and groove profile)… of the delightful interplay of our premium wooden staves.
Our hot tubs are made for talking.
Octagonal wooden bench hung of the walls for maximum leg room to seat from one to eight, in the ultimate backyard setting.
And our exclusive, optional slatted wooden roll cover is strong, durable and attractive.
Unlike a spa, our hot tubs look more natural as time passes.
Nothing beats deep soaking in a wooden tub !
Just take one look… it's worth more than a thousand words. Enough said.